Window Cleaning in Phoenix, AZ
Paneless Window Cleaning & Floor Care is a locally-owned and -operated window washer and cleaner, serving the needs of Phoenix, AZ home and business owners. We offer interior and exterior cleaning services, including window washing, floor stripping and waxing, tile and grout cleaning, and more. Our mission is the cleanliness of your facilities and your total satisfaction. Call today to inquire about bundled services and rates.
Cleaning Services, Tailored to Your Home or Business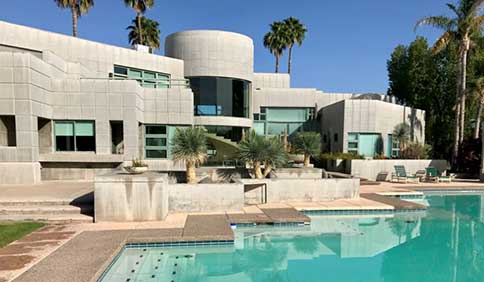 Nobody likes doing chores. The last thing you want is to spend a whole afternoon scrubbing your tile and grout or dedicate an entire day to stripping, waxing and polishing your floor. We understand. That's why Paneless Window Cleaning & Floor Care does these chores for you! We bring a professional-level of cleanliness to your home or business, so you get the benefits of a fresh, clean space, without having to do all the chores associated with it.
We started off doing commercial and residential window cleaning in Phoenix, AZ, but discovered our clients needed more. Today, we go above and beyond other cleaning companies to deliver tailored cleaning services in whatever capacity you need them. Call us for everything from exterior window washing to interior tile and grout cleaning in Phoenix, AZ. No matter what surfaces we're cleaning, you can rest assured they'll be spotless by the time we're done. We can even bundle services and set up maintenance cleanings for you, so you can set your chores on autopilot!
Beyond the usual chores, call us to tackle one-time cleanings and other tidying services your home or business may benefit from. This includes post-construction cleanups and high-ceiling dusting. We promise you'll always get service with a smile. And, of course, the fresh, clean results you expect from a high-caliber cleaning professional.
We cover your residential or commercial cleaning needs, top-to-bottom, inside and out! While most cleaners only do the basics, we deliver total cleaning services.
Want to pick and choose your cleaning services? We offer bundling services, so you're getting exactly what you need and nothing you don't.
Can't reach those high places and tight spaces? Leave it to us! We offer high dusting and are even able to change high lightbulbs for our customers.
Our business has been locally-owned and -operated since 1982. We're proud of the good reputation we've established with our friends and neighbors.
We're totally licensed, insured and bonded for your peace of mind and protection. When you work with us, you're working with a responsible, trustworthy company.
We Clean Everything!

From high dusting and exterior window washing, to floor waxing and grout cleaning, we deliver results that speak for themselves. Let us make your home or business sparkle and shine!
Proudly offering professional Window Cleaning and Floor Cleaning Services in Phoenix, AZ as well as to the following areas:
Paradise Valley, AZ
Scottsdale, AZ
Fountain Hills, AZ
Glendale, AZ
Tempe, AZ
Peoria, AZ
Mesa, AZ
Sun City, AZ
Carefree, AZ
Cave Creek, AZ
Avondale, AZ
Chandler, AZ
Laveen, AZ
Apache Junction, AZ